BEING DISCIPLINED ISN'T EASY. BUT IT IS POSSIBLE.
Have you ever heard the saying, The best things in life are worth fighting for? I'm sure you have. And you know what? It's really true.
What are you willing to fight for?
Do you want a better life, a life that doesn't feel so hard? The kind of life where you no longer feel overwhelmed at home?
I know what it's like to feel like there's no way you will ever get it together. I also know what it's like to feel like no matter how hard you try, things never change.
Where do you see yourself a year from now? Staring at the same pile of clutter on your kitchen counters? Still struggling to get dinner on the table and keep the kitchen clean?
What if the decision you make today could change your life?
The truth is, most people dream of a better life - whatever that looks like - but they never follow through. Deep down they are content to stay the same. To keep running the same race day after day after day.
Creating a disciplined life isn't easy, but it is possible.
But you have to want it. You have to be willing to do the work of transforming your life. I would never tell you it's easy. In fact, creating good habits where bad habits have accumulated like clutter on the dining room table requires determination, discipline, and the decision to make those changes a priority.
With God at the center, with friends to see you through, and with little habits, creating a disciplined life is possible!
"Remember not the former things, nor consider the things of old. Behold, I am doing a new thing; now it springs forth, do you not perceive it? I will make a way in the wilderness and rivers in the desert." Isaiah 43:18-19

---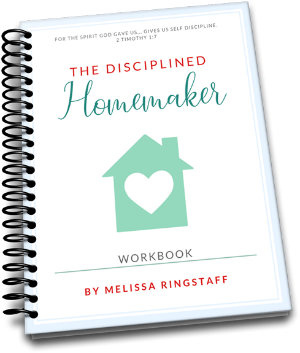 The Disciplined Homemaker is a six week program designed to help you step by step, to create little habits upon little habits that add to big changes.

And you know what? I'll be right there to help you along the way. If you've ever wished you could have a mentor and friend come alongside you and hold your hand, and help you move in the right direction, this is it.
I want to see you succeed!! I want to see you create the self discipline you need to reach the goals you set for yourself.