Thursday: Create in Me a Clean Heart
This Morning's Worship Song.
CREATE IN ME A CLEAN HEART
A Time to Clean: Day 14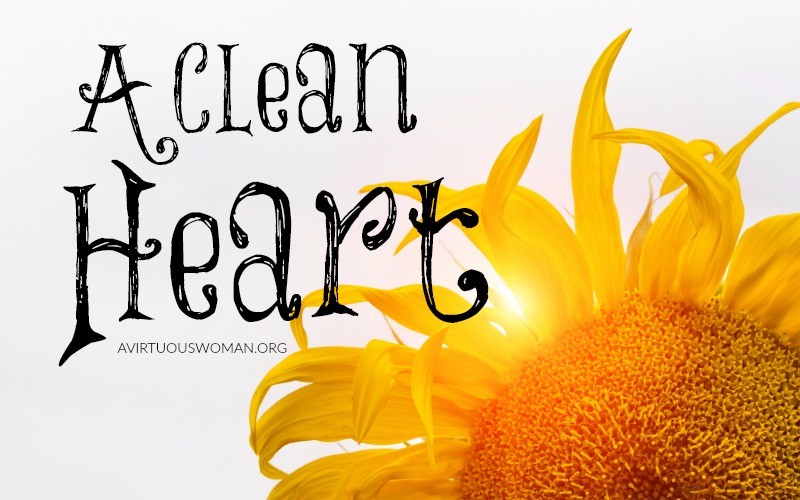 We've covered a lot of ground over the last fourteen days. As promised, A Time to Clean is a time to tear open your hearts and expose the emotional issues that keep us chained to the clutter in our hearts and homes. I know God has been at work!
God can and will heal you of any past hurt. He can and will heal you from the darkness of shame and despair. He can and will heal your heart and make you whole.
But you have to ask Him. You have to want it with all of your heart. You have to want HIM with all of your heart. You have to reach out and touch him.
There's a beautiful story in the Bible, one of healing and faith and a woman who was tormented by shame. She was ostracized by the community and considered unclean. The story is found in Mark 5:24-34:
"And Jesus went with him; and much people followed him, and thronged him. And a certain woman, which had an issue of blood twelve years, And had suffered many things of many physicians, and had spent all that she had, and was nothing bettered, but rather grew worse, When she had heard of Jesus, came in the press behind, and touched his garment. For she said, If I may touch but his clothes, I shall be whole. And straightway the fountain of her blood was dried up; and she felt in her body that she was healed of that plague. And Jesus, immediately knowing in himself that virtue had gone out of him, turned him about in the press, and said, Who touched my clothes? And his disciples said unto him, Thou seest the multitude thronging thee, and sayest thou, Who touched me? And he looked round about to see her that had done this thing. But the woman fearing and trembling, knowing what was done in her, came and fell down before him, and told him all the truth. And he said unto her, Daughter, thy faith hath made thee whole; go in peace, and be whole of thy plague."
Imagine with me for a moment, this woman broken, bleeding, scorned as she make her way through the crowd pushing against her as she strives to touch the Son of Man. What's crowding you, crushing against you, keeping you from touching the hem of Jesus?
Notice how she didn't give up, she pressed forward to reach her goal. She didn't allow doubt and fear and shame to keep her from going to Jesus, reaching for Him, touching Him, feeling His presence in her life.
Philippians 3:14 says, "I press toward the mark for the prize of the high calling of God in Christ Jesus." It reminds us to press forward and not give up!
A Clean Heart
We can recognize our shame. We can see our discouragement. We can feel our past hurts. But if we don't touch them hem of Jesus, our hearts won't be healed! It's time to ask Jesus anew to come into your heart and cleanse your soul. However broken you are, He can heal you. However shamed you are, He can heal you. However cluttered your heart and mind is, He can heal you. There is no pit too deep that the Lord can not find you!
"Create in me a clean heart, O God; and renew a right spirit within me." Pslam 51:10
Today's Goal
Pray and ask God to cleanse you of sin and heal your brokenness. Seek Him with all of your heart!
Pray about making hard decisions – about what things you should keep, preserve, or let go.
This week we're working in our Living Rooms and Family Rooms. Do as much as you can to fill a bag with clutter and clean these areas from top to bottom.
This week we want to continue with the routine of of going to bed with a clean kitchen, sparkling sink, and clear counters if you aren't in this habit already as well as making sure your the areas you have already cleaned are neat before you turn in at night.
Fill at least one bag or box full of stuff to give away.
Take a picture of your bag. Share it in our Facebook group and Instagram if you life - use hashtag #atimetoclean
Do your best to wake up early tomorrow, read tomorrow's lesson and spend time in prayer. Write in your prayer journal.